Primary focuses of the Company's strategic development
In 2013, OJSC Atomenergomash, under the initiative of Rosatom State Corporation, has updated its strategy for the period until 2030 envisaging a transformation of the Division into a high-tech diversified holding that will be competitive on the global market and sustainable in the long term.
Strategic vision of OJSC Atomenergomash:
The guaranteeing single-source supplier of major nuclear power plant equipment
The key player with a strong position in the non-nuclear power engineering markets
The efficient manufacturer and supplier of competitive solutions
Accordingly, the Company has set the following strategic objectives implementation of which will facilitate improvement of Rosatom State Corporation competitiveness as a whole:
Expanding the presence of the Division's enterprises in related sectors (thermal power and alternative energy, gas and petrochemical industry);
International cooperation with global leaders through incorporation into their production chains, establishing alliances, and localizing advanced foreign technologies in Russia;
Globalization of operations, including the localization of production in priority regions where the Company operates;
Expanding the list of services offered before, during and after the sale of products;
Improving the efficiency of production activities through the implementation of cost-cutting, technological development and R&D programs aimed at introducing advanced and highly efficient design and manufacturing processes;
Implementing programs to improve product quality and develop personnel.
Key stages of development and objectives of AEM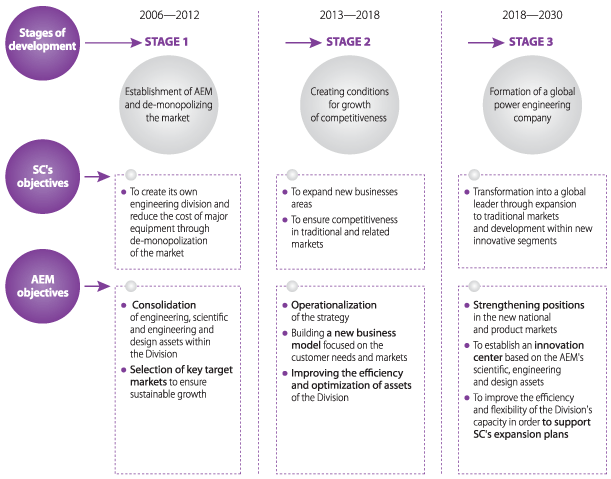 The Company's strategy identifies long-term targets that outline the implementation of the aforementioned strategic objectives:
Long-term targets of the Strategy
Share of the Russian power engineering industry
Share of revenue from non-nuclear sectors
Share of revenue generated by foreign operations
2013 г.
Forecasted for 2014
Target for 2030
By 2020 it is planned to almost double the revenue from traditional markets and almost triple the revenue from new markets. By 2030, OJSC Atomenergomash predicts a quantum leap, including multiple growth of EBITDA margin and triple productivity growth.
High standards of quality, safety and reliability adopted at the Division's enterprises enable fulfilling orders not only for nuclear power plants. If we created a competitive enterprise, it must prove its competitiveness by winning tenders outside the nuclear industry. Competitiveness of an enterprise is determined not by the scope of orders in the industry, but by the scope of external orders.
Sergei Kirienko,
Chief Executive Officer of Rosatom State Corporation